Brock's NFL "You're The Man" Rankings Week 5

We're linking up with the certified legend Chris Brockman (you may have seen him on NFL Network's The Rich Eisen Podcast or getting into it with Spike Lee on twitter) and lace ya'll with the flavor that is his weekly NFL "You're The Man" Rankings. For the full NFL YTM Rankings holler at Brock's blog & follow him @chris_brockman
LOS ANGELES — The real refs returned in time for last Thursday night's game in Baltimore and you can guess how long the love affair lasted. Right, about a quarter.
Ask Green Bay if they like the replacements or the regular refs better? If New Orleans can have an interim to the interim head coach, maybe we can get some replacements for the replacement refs just for Packers games.
Good thing Rodgers' Ruffryders came through this week (thanks to a Garrett Hartley missed field goal, to boot) or we might have a Mike McCarthy-led mutiny on our hands.
But it was good to see 'ole Ed Hochuli and his guns out there again. Apparently Sports Illustrated thought so, too.
Speaking of, does it look like a lot more of these officials are yoked up these days? Did the new deal involve free Bowflex's and GNC Gold Card memberships? This is making me feel like a weakling.
OK, I'm gonna mix in some push-ups here while you read who's the man. Let's get it…[MORE]
32.) Cleveland Browns (0-4) (32) – Does anyone on the Browns have a hot wife I can post pictures of to make the bottom of this poll more entertaining and attractive? Someone has to, right? Quick, lemme Google Brandon Weeden's wife real quick … OK, so this ain't so bad. I mean, that's a great view, right? AmIright? [crickets…]
29.) Oakland Raiders (1-3) (29) – Richard Seymour, I love ya, buddy. You were a Patriot for years. Won some Super Bowls. But you can't honestly think your defense is "close" like you said this week, can you? Close to what? Last place in my poll? Yes, you're close to that. Again. Peyton Manning just threw another touchdown pass.
27.) New Orleans Saints (0-4) (26) – Poor Aaron Kromer. The aforementioned interim to the interim head coach just wants to not go winless in his short coaching stint. Well, he's got two more games to get one and it doesn't get any easier this weekend with the Chargers coming to the Dome. The Saints played their best game of the season in Green Bay, got a gift from the real refs and still lost. Sometimes it's just not your year.
22.) New York Jets (2-2) (19) – I tell ya what, that was some Rex Ryan post game press conference after Sunday's spanking by the 49ers. Is it what the Jets needed? Will it work? Who the hell knows. Personally, I think Rex is seriously on the hot seat. This could end badly. Like worse than his lapband surgery. In a way, I kinda miss the fat Rex. He was much more fun and prone to say real stupid junk. How bad is Houston gonna blank them this week on Monday Night Football? 45-0? That'd be great.
21.) Indianapolis Colts (1-2) (25) – Don't play and move up 4 spots. Why not? But seriously, this Chuck Pagano thing is downright terrible. When I was in elementary school, one of our classmates had Leukemia and I remember our teacher would have a few of us write her letters every couple days. I wasn't close with her, in fact, her name escapes me at this moment, but I wrote her the best letter I could. And I'm sure that reading them, even from someone like me whom she barely knew, made her feel well and alive. I'm wishing Chuck Pagano my best.
17.) Dallas Cowboys (2-2) (13) – Where to begin with last night's Cowboys/Bears game? My friend dubbed this the Douchebag QB Bowl but that's not really right. I don't think Tony Romo is a d-bag but he certainly played like one last night. Sure, two of the picks were deflected but the other 3 were terrible. Not even I threw them that egregiously. All that was missing last night was T.O.
16.) Washington Redskins (2-2) (16) – Blow a huge lead and then come back to win it. Well damn, that's some moxie. Even if it shouldn't have been that close. Billy, Billy, Billy. What are we going to do with Billy Cundiff? Misses what, three field goals that would've put this game out of reach well before Tampa's comeback and then hits the game-winner? Oh, and tell my good friend Robert it's OK to SLIDE every once in a while.
15.) New York Giants (2-2) (4) – Maybe this is too far of a drop, but seriously, where in the hell was Eli throwing that ball on the end zone interception? Where? And to whom? Because all I saw were three Eagles there waiting for it. I told you it was going to be one of these seasons. No rhyme or reason. And you're the NEW YORK FOOTBALL GIANTS, gotta have more than 57 yards rushing. Gotta.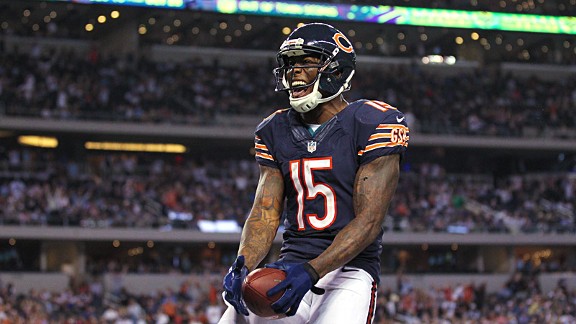 10.) Chicago Bears (3-1) (12) – That's what everyone envisioned what Jay Cutler-to-Brandon Marshall would look like when the Bears traded for the enigmatic receiver. He sure torched the Cowboys, didn't he? Look, I hate Cutler just as much as the next guy, but I love how every move he makes on the sideline now is scrutinized like the Zapruder Film. In his defense, though, I wouldn't want to stand next to Mike Tice for that long, either. Oh, and Chicago's defense sure looks pretty good, huh? Though, Tony Romo made it pretty easy for them.
9.) Philadelphia Eagles (3-1) (15) – Well, that was an impressive win against the Giants, Sunday night. I still don't think Michael Vick is going to remain upright for the entire season. However, if Andy Reid wants to keep winning, he'll keep feeding LeSean McCoy (123 yards vs. Giants). There isn't another back in the league who makes open-field moves like Shady. He should get 30 touches a game.
8.) New England Patriots (2-2) (8) – The first half of last weeks' game illustrated the Patriots' deficiencies; the second half showed how explosive this offense can be and why some said it could be better than 2007. Tom Brady was Tom Brady, but who knew the running game could be that dynamic? Stevan Ridley? Brandon Bolden? I went and picked up Bolden when he was around the 70-yard mark, who knew he still had 70 more to go?
6.) Green Bay Packers (2-2) (6) – The highest ranked of the .500 teams, the Packers finally played a complete game and it almost still wasn't enough. But it was good to see Aaron Rodgers go off (319 yards, 4 TDs) for fantasy owners and I've decided there's not a cooler sack celebration than Clay Matthews' beast. Jared Allen's calf rope had been my No. 1 but I'm down with Matthews now. Plus, I'm still diggin' those State Farm commercials: "Show me, show me what ya got, Raji".
5.) Cincinnati Bengals (3-1) (7) – The Ginger Rocket is no joke (5th in Passer Rating and 4th in TDs). And I have to hear every Sunday night how awesome A.J. Green is because he went to Georgia from Jantzen, but don't you get the feeling that at some point Marvin Lewis is going to remember he's Marvin Lewis and FUBAR this whole operation up? Until then, the Bengals are going to Who Dey all over everyone to more wins.
4.) San Francisco 49ers (3-1) (5) – That's more like it from the 49ers; a spanking of an overmatched opponent. Before the season, I was talking to some people about fantasy running backs and wondered why no one had Frank Gore near the top. Got a lot of, "he's too old" comments. How about the 1,300-yard pace he's on now? That OK for everyone? Thought so. Would like to see more from their WRs though. Mario Manningham can't be your No. 1. He just can't.
3.) Baltimore Ravens (3-1) (3) – As is the case with all the Thursday night teams, I have basically forgotten what you did to make you so impressive, but I know you didn't do anything to drop. So here are the Ravens. Torrey Smith is ballin' right now. And in my fantasy league, my buddy still has Joe Flacco on his bench, which just seems silly at this point, even if he is starting Cam Newton.
2.) Houston Texans (4-0) (2) – Number one in total defense. Second against the pass. Fifth in sacks. Yes, the Texans opponents have a combined 6-10 but you can only play who's in front of you and they've dominated all comers to this point. Arian Foster is on a 412-carry pace, which concerns me and Andre Johnson has been real quiet so far. More offensive balance would be nice but with that division, expect Gary Kubiak's mug to be near the top all season.
1.) Atlanta Falcons (4-0) (1) – How 'bout the onions on Matt Ryan on that throw on 1st and 10 from the 1-foot line late in the Panthers game last weekend? That would make me react like this, too. In fact, that last time I saw someone literally just drop back and throw the ball as far as they could, well, it was me. Senior year at Syracuse, first game of the flag football season. For some reason, our game against these freshman came down to the wire and on the last play of the game I reared back and let it fly 60 yards to the right corner of the end zone, where it landed in the hands of my buddy James for a touchdown. My now buddy, Sean McBride, was defending and will tell you exactly how it went down. Oh, right, the Falcons are good.
DIDN'T SEE YOUR FAVORITE NFL TEAM? CLICK HERE FOR BROCK'S FULL LIST
Tags: