Brock's NFL "You're The Man" Rankings Week 3

We're linking up with the certified legend Chris Brockman (you may have seen him on NFL Network's The Rich Eisen Podcast or getting into it with Spike Lee on twitter) and lace ya'll with the flavor that is his weekly NFL "You're The Man" Rankings. For the full NFL YTM Rankings holler at Brock's blog & follow him @chris_brockman
LOS ANGELES — What a difference one week makes. If there's one thing Bill Parcells was right about, in the National Football League (Ron Jaworski voice), you are what your record is, and what we have is a very balanced league.
Six teams are winless, six are undefeated and 20 stand at 1-1. We also have a league on the verge of chaos.
Do you remember more games with near brawls, bogus penalties, bad ball spotting, clueless men in stripes, and coaches being more demonstrative than in Week 2?
Everyone knew the replacement officials would struggle, but the incompetence was taken to a new level this past weekend. Deion Sanders said it and you can't argue, it's like all the kids in science class are picking on the substitute teacher. Oh, and handshake bowl part 2?!
Quick, let's find out who's the man before this gets Ron from Queensbridge crazy….[MORE]
[via @Chris_Brockman, The Chris Brockman Website]
32.) Oakland Raiders (record: 0-2) (last week: 31) – I really thought I'd be able to go the whole season posting one Lauren Tannehill picture after another, but alas Carson Palmer and the Raiders went and took that away from me. Remember last week when I said I was starting a "Free Fitz" campaign? Well, it might be time to start a "Free DMC" one as well. We're an equal opportunity platform here.
29.) Miami Dolphins (1-1) (32) – Oh what the hell, here's Lauren Tannehill. And damn, Reggie Bush wasn't kidding when he said he could win the rushing title. I really thought he was joking. Trying to get some laughs on "Hard Knocks" after Chad got the boot. Someone had to pick up the slack since Joe Philbin was boring as shhh.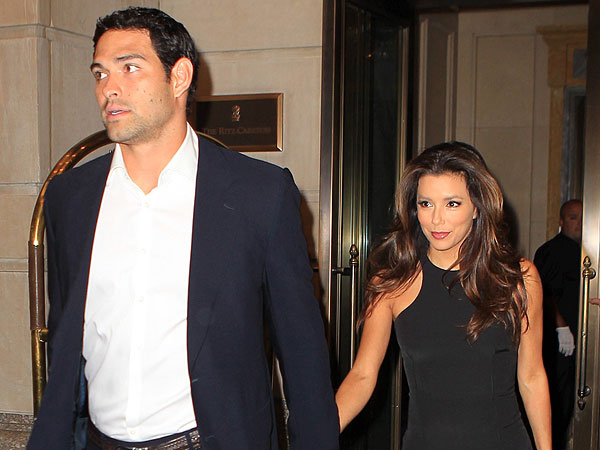 22.) New York Jets (1-1) (17) – I don't care about how the Jets played on the field. Let's soak in the fact that 37-year old (she claims) Eva Longoria acknowledged she's dating 25-year old Mark Sanchez. Now, Sanchez is statistically a better quarterback than Tim Tebow, but he's not as electrifying when compiling those statistics. HOWever, there's one category where Sanchez is clearly superior: boos. Sanchez, very quietly, has some serious Jeter in him. If we could do a side-by-side chart at this point in their careers, I'd be willing to bet while Jeter might have bigger names (Mariah, etc.) Sanchez's dames are much more striking. Ya know, if you're into that exotic, barely speaking English kinda thing.
21.) Seattle Seahawks (1-1) (22) – Has a bandwagon gained more passengers, lost 99% of them and then gained them all back quicker than the Seachickens in the last 8 days? They beat what I thought was a pretty good looking Cowboys team rather easily. But playing up in the great North by Northwest is a different beast. Not everyone can handle it. (Looking right you at, Terrell Owens.)
15.) Dallas Cowboys (1-1) (8) – What the hell is going on in the NFC East? One week you think someone from this division can win the Super Bowl and the next they couldn't beat Santa Margarita. I honestly don't know what's gonna happen week to week and I sure don't know what to make of the Cowboys. Tony Romo returned to Seattle and botched more than just the extra-point snap, scoring just 7 points and posting a 74.1 passer rating. But his backwards hat looked really cool!
14.) Chicago Bears (1-1) (6) – I don't know who laid the biggest stink bomb this week: the Cowboys or Bears but holy Ron Burdandy's mustache, did two teams look more opposite from week to week that those two? Ya know what, I blame myself for getting caught up in their hype. No two teams suck their fans and pundits in quite like the Bears and Cowboys only to pee down their own legs. Shame on us, America. Oh, and tell me you've seen this latest tumblr featuring Jay Cutler. Pure genius.
13.) Tampa Bay Bucs (1-1) (12) – Every season it has to be something, right? Last year, we had the Handshake Bowl and now we have the, what are we even calling this? The Kneel Down Bowl? How great was Tom Coughlin scolding Greg Schiano postgame like he was his son and found his beer/cigar stash in the garage? That said, this Bucs team looks like a playoff team. The only question is if they can stay ahead of the Panthers.
12.) San Diego Chargers (2-0) (16) – Two straight impressive offensive performances against two pretty bad teams. Sounds about right for the Lightning Bolts. But how classy was the retiring of #55? If you haven't read my column in the initial aftermath of Junior Seau's passing, you can read it here. We'll see how striking this team is when Atlanta comes to town this week.
11.) Washington Redskins (1-1) (9) – If Josh Morgan doesn't go knucklehead and cost the Redskins 15 yards on the final drive, you may not be reading about Washington for a few more paragraphs. Alas, it takes 53 guys to win and lose (not really, but go with it) so here it is at #11. My good friend Robert (Griffin the Third) appeared slightly less video game freakish this week and there's a good chance he may get sliced in half like The Prestige on one of these runs but until then, I'm not changing the channel when he's got the ball. Are you?
10.) Philadelphia Eagles (2-0) (20) – Is there a 2-0 team who looks shakier than the Eagles? I mean, it's not like they're the first in the 90-plus year history of the NFL to win their first two games by one point each. Oh, they are? Carry on.
9.) Denver Broncos (1-1) (13) – So about Peyton Manning's arm strength, ball velocity, sharpness and MVP season. In Manning's defense, he did tell us last week he wasn't all the way back, and I'm sure he won't be until about Week 12 or so, which is right around the same time he'll start to break down because HE HAD FOUR NECK SURGERIES AND MISSED AN ENTIRE SEASON. Can't hammer that point home enough.
8.) Pittsburgh Steelers (1-1) (15) – Last week I wondered if the Steelers were in for a long year or were better than they let on in Week 1. I think their handling of the Jets proved Black & Yellow should be OK this season. Still not sure who's running the ball but Mike Wallace doesn't appear to be feeling the effect of missing training camp, and when James Harrison and Troy Hair God return from injury, things should be back to normal at Heinz Field.
7.) New York Giants (1-1) (10) – After two games, it's shaping up to be one of those seasons for the G-men. You thought the Romo-coaster was a fun ride. The Bucs game was a pretty good microcosm of Eli Manning's career. Shitty, shitty, shitty, then awesome and win the game. Ho Hum. And seriously, Tom Coughlin has won 2 Super Bowls and will most likely be a Hall of Famer, but dude is NEVER happy. The homeless guy who calls me "boyyy" every morning begging for dollar bills at least smiles every once in a while. But seriously, falling waaaay behind and having Eli bail you out each week is gonna get old real quick.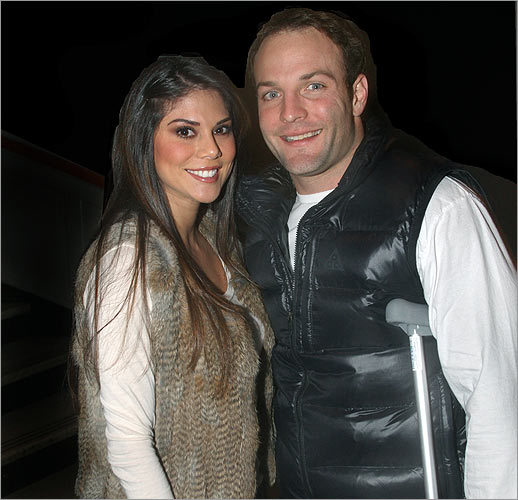 6.) New England Patriots (1-1) (3) – Major chink in New England's armor with this Cardinals loss. And you can't undervalue the loss of Aaron Hernandez; changes the offense completely. But let's talk about Wes Welker for a second. Has anything gone right for this guy since he dropped the Super Bowl-clinching catch? He did marry a smoking hot chick, but how long will that last? I love Wes, but maybe his time is up. Maybe Tom Brady really made him a "superstar" or the system did or Randy Moss. But he's been in New England long enough and should know better howthe Patriots do business.
1.) San Francisco 49ers (2-0) (2) – That wasn't just a beatdown of the Lions on Sunday night, that was a dissection. Rich Eisen tweeted it out near the end of the game, and he's right, it's time to stop saying the 9ers are winning in spite of Alex Smith. He can make every throw, is elusive with his feet and has an offensive line loaded with 1st Round picks. On top of that, have you seen a coach with bigger absolute crazy eyes than Jim Harbaugh? If you told me he gets in full war paint and howls at the moon each night, I'd believe you. Everything is in play.
Tags: