UPDATE: The NBA's Biggest Rumors And News…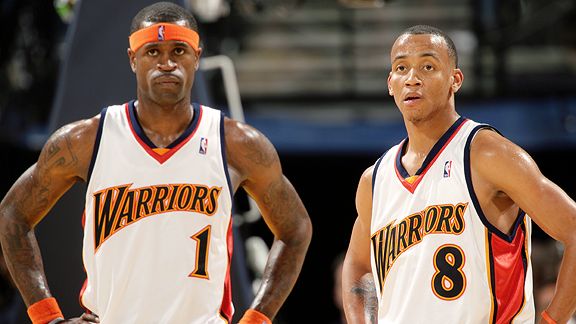 UPDATE: Ricky Rubio has officially signed with Regal Barcelona as we reported last week. Sorry US fans, the earliest you'll see him play in the NBA is 2011.
Ricky Rubio will be a TWolve next year – We're only 1 month away from the start of training camps and the Wolves GM is still taking trips out to Spain (as he did this weekend) to talk to the owner of the team Rubio currently plays for, DKV Joventut.
If that doesn't tell you that he still might come, then this might…word from overseas is the Wolves offered a new deal to DKV that included: cash, a promise to play two exhibition games in Barcelona, and deals with Minnesota companies.
Monta Ellis is going to get traded to the Mavs – First there was the news that Stephen Jackson wanted out of Golden State so he could go to a Championship contender, and now rumor is that Ellis might go to the Mavs. Why?…Because he is one of the many players who doesn't get along with Coach Nelson. But don't count on him going anywhere, just as Jackson probably isn't going anywhere.
Yao Ming will be back next season – Okay, so our knig Ya-da-da-Ming has already had his foot surgery, the docs are saying that he's progressing along nicely, and the GM says that "the outlook is very good" for next season. Still, unless the Rockets are in the Championship hunt come the end of next season, which they won't be, don't be expecting the Rockets to send him out there to play hurt and ruin their franchise players career…a la Tracy McGrady.

Shaq stole the idea for his show "VS" from Steve Nash – Even though Shaq is still denying, the Big Fella did it. Why else would Steve Nash be an Executive Producer on the project when he didn't put up any cheese to produce, nor is he going to be featured in it one time? It's either that, or Shaq is one hell of a nice guy.
Tags: